Plant Trials & Testing
Proven Winners® isn't just our brand - it's our guiding principle.
We devote an enormous amount of resources to trialing and testing every plant that is in consideration to join the Proven Winners ColorChoice line. It's the only way we can be sure that our shrubs outperform everything else on the market. On average, it takes 7-10 years for a shrub to go from when we first identify it as a plant of interest to offering liners for the first time. It's not an easy job: sometimes we have to throw out plants we love because they don't measure up, or don't bring something unique to market. But our ruthlessness is your reward. Our typical trial process works like this:
Phase One - Greenhouse
The trialing process begins in our four acre R&D greenhouse, where shrubs are potted into standard nursery containers and grown in large blocks of the same genus to serve as a side-by-side comparison with established varieties. Our R&D crew regularly records data on growth rates, flowering times and duration, bloom size and color, and habit. Plants typically spend at least two years in this evaluation phase.
Phase Two - Outdoor Trials
If a plant is showing promise in our greenhouse container trials, we will propagate it and move it to a field trial to test for hardiness and winter survival. Our field trials are also an important part of helping us to determine the best way to keep our stock plants if the plant is eventually introduced. We plant out several specimens of the same plant to help account for any small differences in row position. Plants that are not hardy to our USDA zone 6a location are typically trialed by the breeder in his or her climate. For example, our Jazz Hands® loropetalum series was trialed by breeder Yuji Suzuki at his facility in very hot and humid Japan, an area with similar conditions to the southern states where this variety is suitable.
We also plant outdoors into a landscape environment more akin to where homeowners and landscapers would plant shrubs. Our 14 acre trial site on the Grand River affords lots of unique microclimates for us to experiment with. One area of the garden is flanked by the river on one side and a large marsh on the other, bringing a high level of humidity that's ideal for testing the powdery mildew resistance of particularly susceptible species like physocarpus and spirea.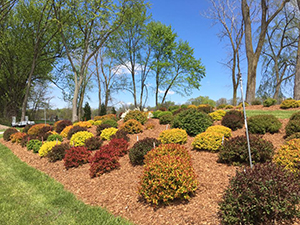 During this phase, we evaluate for disease resistance, sun tolerance, burn resistance, suckering, habit, and winter damage. Growers who visit or attend our Leaderboard Summit are invited to give their feedback by flagging potential introductions that are of interest.
Phase Three - Propagation and Production Trials
Once we've ascertained that a plant shows value to the market, we must ensure it propagates successfully and consistently, and is easy for growers to produce in a reasonable amount of time. This part of the process can be particularly grueling, since it's where many eminently landscape worthy plants may falter. This phase may take three or more years until we've determined that a plant meets all the criteria for propagation and production.
Phase Four - Building Numbers
If we have determined that we will move a selection toward introduction, our first step is to start to build numbers on it so that we can meet our customers' demand. Contrary to popular belief, it is never our desire to be sold out of anything - we'd always prefer to fill every order that comes in for a plant. Our growers will grow on larger plants in the greenhouse then plant them into our fields or a quonset to serve as mother plants. We start taking and rooting cuttings as soon as possible to build up a good supply.
During this time, we will also start the process of getting good photography of the plant and taking patent data to get an accurate representation of its characteristics. We'll also start the oft-times grueling task of coming up with the perfect name (or sometimes, even a good name) for our new introduction.
Phase Five - Plant, Meet World
A new plant will make its big debut in the Spring Meadow Catalog, which is printed in mailed in late summer each year. All new plants in our catalog are allotted on a first come, first served basis, so ordering early is always recommended. Liners for the variety ship for the first time that following spring, and the year after that, the first plants will make their way into retailers and into gardens across North America.