Proven Winners ColorChoice Trees
The Number One Plant Brand now includes trees!
Over the last 20 years, we've built one of the most successful shrub brands in North America. Adding trees to the Proven Winners® ColorChoice® line, then, is a natural outgrowth of our mission to offer the best woody plants on the market. We are proud to work with Maria Zampini of UpShoot to select, distribute, and market the varieties that make up the new Proven Winners tree line.
The primary selection criteria for Proven Winners ColorChoice Trees is similar to that of ColorChoice Shrubs: superior beauty, disease resistance, landscape-friendly size and habit, multi-season interest, and retail appeal. The line includes:
Get the Proven Winners Trees Guide

Interested in growing, buying, or selling Proven Winners trees? Please contact Maria Zampini at UpShoot, LLC, for more information
or contact one of these licensed growers:
Alpha Nurseries
Salem, OR
800-293-1286

Ekstrom & Schmidt Nursery LLC
Troutdale, OR
503-328-6680

Pride's Corner Farms
Lebanon, CT
800-437-5168
Arrowhead Ornamentals LLC
Hubbard, OR
503-651-2040

Hans Nelson & Sons Nursery
Boring, OR
877-663-0511

Robinson Nursery
Amity, OR
877-855-8733
Baker's Nursery, Ltd.
Bayfield, ON
519-441-3369
Kankakee Nursery
St. Anne, IL
800-344-7697
Surface Nursery, Inc.
Gresham, OR
800-831-2599
Blue Heron Farm
Corvallis, OR
800-223-8410
Oregon Pride Nurseries
McMinnville, OR
888-472-9147
Turner & Sons Nursery
Smithville, TN
931-934-2355
Bountiful Farms
Woodburn, OR
503-981-7494
Overdevest Nurseries, LP
Bridgeton, NJ
856-451-3179
Willoway Nurseries
Avon, OH
866-934-4435

Craig Spinks Nursery
Gresham, OR
503-663-5851

Winkelmolen Nurseries Ltd.
Lynden, ON
519-647-3912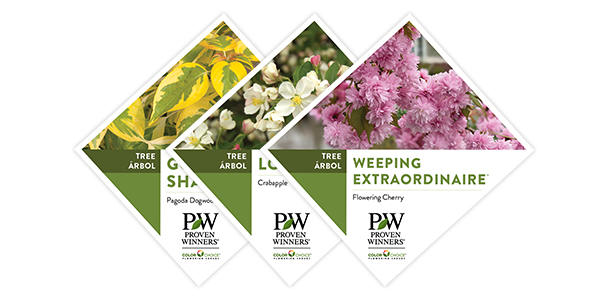 The line will grow each year as new varieties are proposed; several interesting new possibilities are currently under evaluation and/or
being propagated to increase supply.
Click here for a PDF of the most recent Proven Winners ColorChoice ornamental tree ad.