Decked Out® Deco Planter Program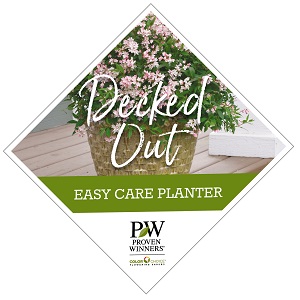 A new way to offer the enduring beauty of flowering shrubs to consumers.
The Decked Out® deco planter program combines Proven Winners® ColorChoice® award-winning shrubs with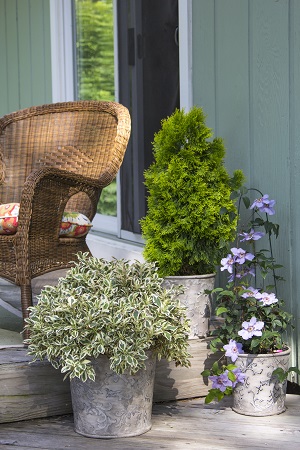 decorative containers for irresistible, instant-purchase appeal at the retail level. It's an easy option for consumers in every market, from big city balconies, to rural retreats.
Though many of our 300+ shrub varieties can be grown in a container, there are suggestions that can narrow down the list. Some of the recommended plants include the Pugster® dwarf Buddleia series, the Jazz Hands® Loropetalum series, the Oso Easy® Rosa series, or one of our popular dwarf hydrangeas like Bobo® and Little Lime® Hydrangea paniculata, Invincibelle Wee White and Mini Mauvette® Hydrangea arborescens, or Tiny Tuff Stuff®, a reblooming Hydrangea serrata.
Recommended plants have been chosen for tidy presentation, low maintenance, and of course, the "it factor" that generates sales.
To preserve the premium brand experience and to ensure the plant's best possible performance and health, retailers do need to adhere to a few program guidelines:
Decorative containers must cost a minimum of $2 per piece, wholesale.
The container must be designed for plants. No repurposing of other vessels.
The container must have open drainage holes in its bottom. No "self-watering" containers.
The container may not have a permanently attached saucer.
Size of decorative container must be larger than our true one gallon (7.5"/19.05 cm diameter by 7.125"/18.09 cm).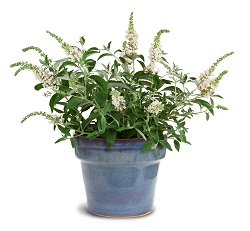 The program also includes a new Decked Out® tag which functions as a mini care manual, answering the most common questions about caring for shrubs in containers, so gardeners of any skill level can be confident in their purchase. Use of both the standard diamond variety tag and the container tag is required.
The Proven Winners® ColorChoice® Decked Out® program is available now! Contact your Spring Meadow account manager for more information.
Download a PDF of the Decked Out® deco planter program brochure here.