Proven Winners Marketing
Your success is the goal of our marketing.
Whether you're a wholesale grower, retailer, or landscaper, we want you to be successful and profitable selling Proven Winners shrubs. We produce an abundance of marketing materials to help your customers understand the value of purchasing our plants from you and to help them grow them successfully.
Print Advertising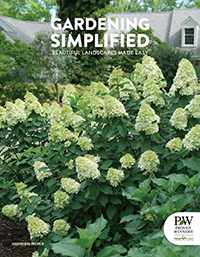 No other brand does more direct to consumer advertising. Proven Winners ColorChoice ads have a unique, eye-catching look that drives readers to your store. See all of our ads and their messaging on our consumer site, ProvenWinners-Shrubs.com.
Gardening Simplified
Our 100 page reference guide is chock full of gardening information, colorful photos, planting ideas, and information about Proven Winners Shrubs. Published every two years, we mail over 40,000 copies to consumers and distribute them at events, homeowners associations, master gardener groups - anywhere people are talking about plants!
Check out Gardening Simplified
The "Demystified" series
No, it's not the latest sci-fi thriller...it's our way of breaking down plants and practices that have long confused homeowners and gardeners so they gain a clear understanding. Hydrangeas Demystified, the piece that started it all, has quickly become a go-to piece for professionals and consumers alike. Pruning Demystified is also available, and more installments are planned. We welcome you to tell us what we could demystify for your customers.
Plant Tags
The tag is like an instruction manual for the plant, and gives buyers confidence in their purchase. Proven Winners ColorChoice tags have a distinctive diamond shape and a unique design that lets us feature three different photos of the plant, and areas to call out their most distinctive feature. Our tag previews let you see what your customers will see when they are shopping.
Proven Winners ColorChoice Digital Asset Manager (DAM)
Unique, accurate, and timely: the DAM is like a search engine for all Proven Winners® ColorChoice® creative digital assets like images, videos, and sell sheets, delivering new and up-to-date assets with a quick search. Need a landscape shot of Limelight Prime® hydrangea? The grower sheet for Purple Pillar® rose of Sharon? Ready-to-print POP for the Shrubs of the Year? It's all available in one, easy-to-navigate resource.
---
Looking for point of purchase materials?
Ready-made and custom designed POP is available for purchase on the Proven Winners website. If you'd like the files for shrub benchcards to print yourself, please contact our marketing department. Benchcards are also available for Canada; please inquire.