Invincibelle Spirit II FAQs
Answers to some of the most common questions gardeners around North America
ask about Invincibelle® Spirit II hydrangea: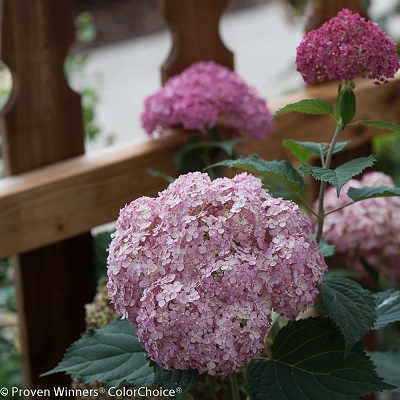 'Annabelle' hydrangea always flops over in my garden when it is in full bloom.
Since Invincibelle® Spirit II is a pink 'Annabelle,' will it flop, too?
It shouldn't. Invincibelle® Spirit II was selected for having some of the strongest stems of any smooth hydrangea (H. arborescens) that we've seen, and the stem strength is improved over its predecessor, Invincibelle Spirit. That said, young plants may not have had the time to create the strong, woody stems needed to support the flowers; this may also be true for plants that have been pruned drastically. When the stems mature, they become woodier and strong enough to support the blooms. Persistently floppy stems may also indicate that the plant is growing in too much shade. Invincibelle Spirit II looks and performs best when it gets at least 4-6 hours of bright sunlight each day.
The color of my flowers is nothing like the color on the tag or the website. What's going on?
The flowers of Invincibelle Spirit II go through several color changes from bud to spent bloom, beginning as a sort of dusty mauve and ending with a tawny buff-pink. The rich, true pink you've seen in photographs represents the color of a mature plant at peak bloom. As your plant becomes established in your garden, it will be able to devote more energy to producing, bigger, more vibrant flowers, so a bit of patience is advised. If you've had your plant for a few seasons and its flowers are still pale and washed out, it is a pretty good indication that you've planted it in too much shade.
If I planted my Invincibelle Spirit II hydrangea in too much shade, can I move it to a sunnier spot in my yard? When is a good time to do this?
Invincibelle Spirit II hydrangea is a strong, resilient plant that readily recovers from transplanting, so it's a good idea to move it if you have a more suitable spot in your garden. To make the job as easy as possible on both the plant and yourself, do this in spring, before temperatures get too hot (into early May in hot climates, early June in cooler areas), or in early autumn, once summer's heat has abated. In either case, know that you will have to keep a close eye on watering for the weeks and even months following the operation and provide supplemental water if rainfall is limited. When transplanting, it is advisable to prepare the new site as much as possible – dig the hole, have water at the ready – before digging out the shrub. This greatly minimizes stress on the plant, helping it to recover and look fabulous in your landscape more quickly.
How do I make my Invincibelle Spirit II hydrangea rebloom?
The Invincibelle line of Hydrangea arborescens are the ONLY reblooming smooth hydrangeas. It is simply in its nature to continue flowering until frost. To increase the quantity and quality of rebloom, however, you can remove old flowers once their bright pink color has faded. Fertilizing also encourages rebloom – we recommend fertilizing once in early spring, just as the new growth is beginning, and again in mid to late June. The more new growth the plant puts on, the more it will rebloom.
Can I make the flowers of Invincibelle Spirit II hydrangea blue if I change the soil pH?
No. Invincibelle Spirit II is a type of smooth hydrangea and it will flower pink no matter where it grows. Only bigleaf hydrangea (Hydrangea macrophylla) can change its flower color based on soil chemistry.
Still have questions? Contact us and we'll get you an answer right away!
Click here to purchase an Invincibelle® ​​Spirit II hydrangea ​