Proven Winners® ColorChoice® varieties take multiple awards at 2018 Plantarium
Proven Winners® ColorChoice® plants fared well at this year's Plantarium 2018 which took place August 22-24 in Boskoop, Netherlands.
Four awards are presented at Plantarium, including Best Novelty award, Gold, Silver and Bronze awards, and the Press award. Submissions for Best Novelty included 95 plants of which 88 were accepted for the showcase. Of those, 63 plants were ultimately judged. The Novelties division consists of plants that are introduced at Plantarium, having been bred by companies both at home and abroad.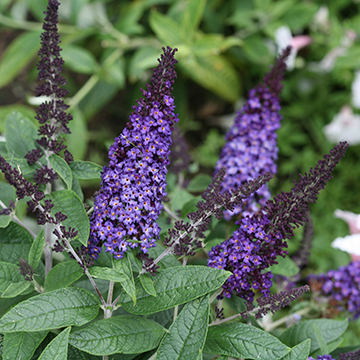 The top honor was earned by Proven Winners® ColorChoice® Pugster Blue® Buddleia, which was pronounced Novelty Plant Winner of Plantarium 2018. Buddleja davidii 'SMNBDBT' (Pugster® Blue) was submitted by Valkplant BV and was chosen by judges from the Royal Boskoop Horticultural Society.
With abundant branches that present with dense, low growth, the jury remarked on the "beautiful contrast between the dark-green leaf and the warm colors of the flowers, which are deep violet with an orange eye." Very hardy and suitable for different uses, its distinctive and innovative combination of properties made Pugster Blue® Buddleia a standout at Plantarium. After the trade fair, the best Plantarium Novelty gets a place in the Harry van de Laar assortment garden in Boskoop, where its performance can be observed in terms of ornamental and practical value when planted in the garden.
Four plants were awarded Gold by the jury, including Proven Winners ColorChoice Invincibelle Limetta® Hydrangea arborescens, submitted by Valkplant BV. Invincibelle Limetta® hydrangea produces fresh, lime green flowers that turn pale white-green and then back to lime green. Part of the Invincibelle series of dwarf 'Annabelle' Hydrangea arborescens, it grows to heights of 2.5-3' and has a natural, round shape with strong, supportive stems. A strong rebloomer, it flowers from early summer to autumn.
A Silver Award was given to Proven Winners ColorChoice KODIAK® Orange Diervilla 'G2X88544', also submitted by Valkplant BV from Boskoop. An eye catcher all season, KODIAK Orange Diervilla produces shiny, orange-colored foliage in spring and light yellow flowers from early summer to autumn. KODIAK® Orange Diervilla is easy to maintain, flourishing in shady and in dry spots.
Located in Grand Haven, Michigan, Spring Meadow Nursery grows these award-winning shrubs, as well as over 280 additional varieties which are marketed under the Proven Winners® ColorChoice® brand.