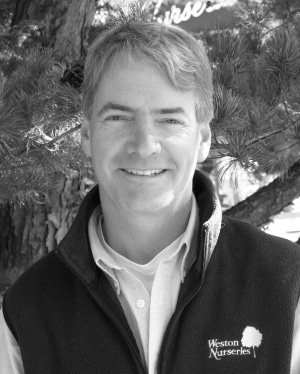 Meet the Breeder
Mezitt Family
Weston Nurseries, Hopkinton, MA, USA
'Weston's Ribbon Candy'
Azalea
Rhododendron sp.
'Weston's Ribbon Candy'
Swipe to View More
Native
Fragrant
Two-toned flowers
Spring Meadow Nursery no longer offers this variety; the information on this page is for reference only. Please view the suggested plants below for substitutes.
Description

Dazzling, star-like flowers. Unique striped flowers are super showy in the landscape and at retail. Summertime blooms emit an unusual fragrance, described by the breeders as "spicy-peppery." Excellent fall color!
USDA Zone 4 - 8 (-30°F/-34°C)
Exposure Full sun, Part sun
Height 6 - 12'
Width 6 - 12'
Finish Time 1 season
Type Deciduous
Bloom Time Summer
Flower Color Pink, White
Foliage Color Green
Liner Sizes 2 1/4"
General Care
Soil Cool, acidic soils with abundant organic matter and good drainage are required.
Pruning Rarely needed; Prune after flowering if required.
Uses Woodland gardens; pollinator gardens; specimen; foundation plantings; mixed borders.
Growing Tips Best in filtered light all day long, especially in warmer areas. May be deciduous in cold climates, semi-evergreen in warm ones.
Features: Attracts pollinators, Disease resistant, Fragrant, Native
Filters: Botanical genus: Rhododendron, Common name: Azalea, Retail program: Local Roots®, USDA Zone 4, USDA Zone 5, USDA Zone 6, USDA Zone 7, USDA Zone 8, Exposure: Full sun, Exposure: Part sun, Bloom time: Summer, Pink flowers, White flowers, Green foliage
Features: Attracts pollinators, Disease resistant, Fragrant, Native
Filters: Botanical genus: Rhododendron, Common name: Azalea, Retail program: Local Roots®, USDA Zone 4, USDA Zone 5, USDA Zone 6, USDA Zone 7, USDA Zone 8, Exposure: Full sun, Exposure: Part sun, Bloom time: Summer, Pink flowers, White flowers, Green foliage