Clicking the following controls will change the main image displayed above.
Meet the Breeder
John and Erik Rijnbeek
Boskoop, the Netherlands
SWEET & LO™
Sweet Box
Sarcococca hookeriana
'Purplerij1'
Swipe to View More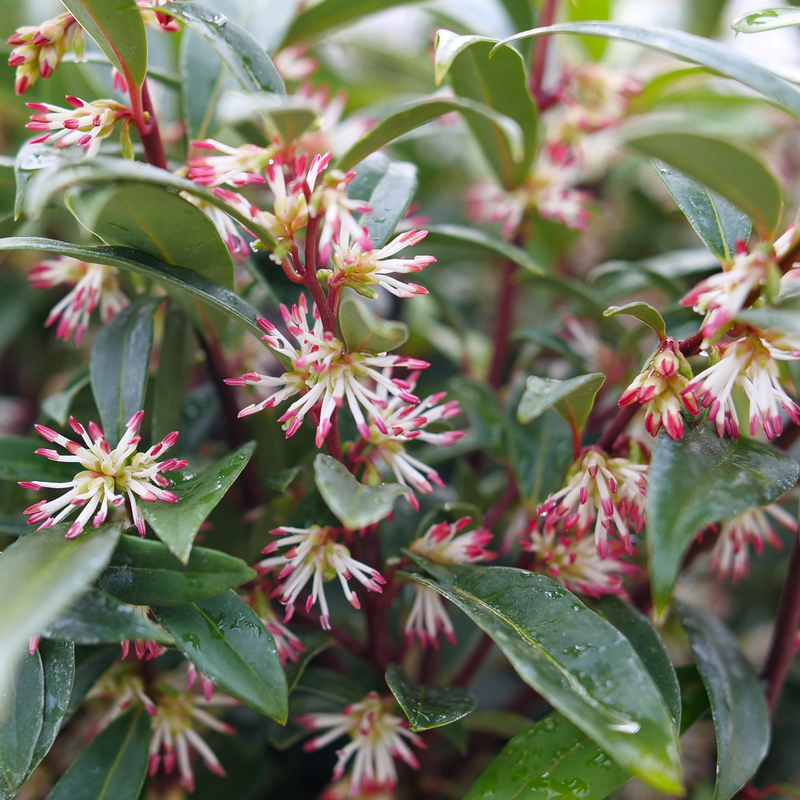 Evergreen
Fragrant
Durable
Description

An extra bushy, fully bodied selection with glossy, dark green foliage and attractive deep purple stems. Its late winter/early spring blooms are a treat for early pollinators, with thread-like, red-tipped white flowers that emit a delightful jasmine-like fragrance. Used en masse or in a container, this very durable, versatile shrubby ground cover is perfect for even the shadiest locations. Growers will love how much faster it is to finish than other sarcococca and its irresistibly tidy container presentation. Developed by John and Erik Rijnbeek of Boskoop, the Netherlands.
USDA Zone

5 - 9 (-20°F/-28°C)

Exposure

Part sun, Shade

Height

1.5 - 2.5'

Width

2 - 3'

Finish Time

1 season

Type

Evergreen

Bloom Time

Late winter - early spring

Flower Color

Pink, White

Foliage Color

Green

Liner Sizes

2 1/4", 4", Quick Turn
Soil
Requires cool, moist, acidic soils.
Pruning
Little needed; lightly suckering habit can be managed by pruning or removal, as desired.
Uses
Woodland gardens, mass plantings, containers
Growing Tips
Sarcococca suckers lightly, but this improves its ground covering habit.
Features: Attracts pollinators, Deer resistant, Compact, Evergreen, Foliage interest, Fragrant
Filters: Botanical genus: Sarcococca, Common name: Sweet Box, Retail program: Proven Winners® ColorChoice®, USDA Zone 5, USDA Zone 6, USDA Zone 7, USDA Zone 8, USDA Zone 9, Exposure: Part sun, Exposure: Shade, Bloom time: Spring, Pink flowers, White flowers, Green foliage
Features: Attracts pollinators, Deer resistant, Compact, Evergreen, Foliage interest, Fragrant
Filters: Botanical genus: Sarcococca, Common name: Sweet Box, Retail program: Proven Winners® ColorChoice®, USDA Zone 5, USDA Zone 6, USDA Zone 7, USDA Zone 8, USDA Zone 9, Exposure: Part sun, Exposure: Shade, Bloom time: Spring, Pink flowers, White flowers, Green foliage