Clicking the following controls will change the main image displayed above.
Meet the Breeder
Megan Mathey
Grand Haven, Michigan
POCO LOCO™
Abelia
Abelia × grandiflora
'SMNAGBT'
PPAF
Swipe to View More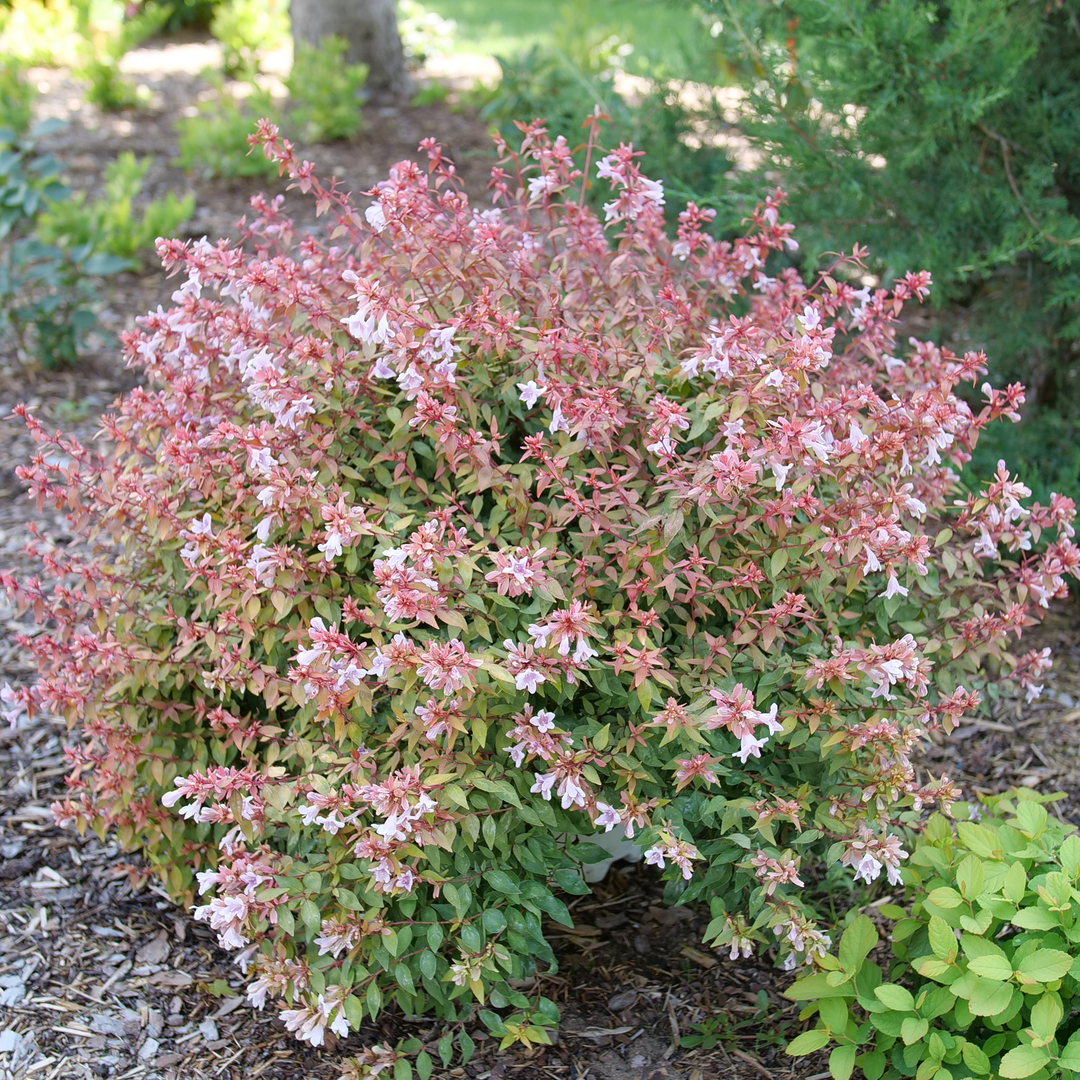 Colorful foliage
Fragrant flowers
Neat + tidy habit
Description

Poco Loco™ abelia keeps things interesting all season long! The show begins in spring, when foliage emerges yellow and orange. As the season progresses, the foliage morphs to green with pink-red new growth and is accompanied by heavy sets of fragrant pink flowers. Naturally takes on an appealing, globe-shaped habit that brings tidiness and welcome structure to any place it is planted.
USDA Zone

6 - 9 (-10°F/-23.3°C)

Exposure

Full sun, Part sun

Height

2-3'

Width

2-3'

Finish Time

1 season

Type

Semi-evergreen

Bloom Time

Summer

Flower Color

Pink

Foliage Color

Yellow, Green, Red

Liner Sizes

2 1/4", 4", Quick Turn
Soil
Abelia are adaptable to a range of soil types and will tolerate periods of dry soil. Best growth is in moist, well-drained soils; benefits from mulch in the landscape.
Pruning
Prune in early spring if necessary. Trimming in summer removes flowers but will encourage colorful new growth.
Uses
Abelia is an excellent choice for general landscaping. May be used as a specimen, low hedge, or in perennial gardens/mixed plantings.
Growing Tips
Blooms on new wood.
Features: Alkaline soil, Attracts pollinators, Clay soil, Compact, Deer resistant, Fall interest, Foliage interest, Fragrant, Heat tolerant, New, Semi-evergreen
Filters: Botanical genus: Abelia ×, Common name: Abelia, Retail program: Proven Winners® ColorChoice®, USDA Zone 6, USDA Zone 7, USDA Zone 8, USDA Zone 9, Exposure: Full sun, Exposure: Part sun, Bloom time: Summer, Pink flowers, Yellow foliage, Green foliage, Red foliage
Features: Alkaline soil, Attracts pollinators, Clay soil, Compact, Deer resistant, Fall interest, Foliage interest, Fragrant, Heat tolerant, New, Semi-evergreen
Filters: Botanical genus: Abelia ×, Common name: Abelia, Retail program: Proven Winners® ColorChoice®, USDA Zone 6, USDA Zone 7, USDA Zone 8, USDA Zone 9, Exposure: Full sun, Exposure: Part sun, Bloom time: Summer, Pink flowers, Yellow foliage, Green foliage, Red foliage